7 Best Open Source Slack Alternatives for Team Communication
Looking for open-source alternatives to Slack? Discover the best options for team communication with transparency, customization, and cost savings. Find the perfect platform to collaborate effectively and meet your team's specific needs.
In today's fast-paced and collaborative work environments, effective team communication is crucial for achieving goals and maintaining productivity. While Slack has been a popular choice for team messaging, its proprietary nature and associated costs may not always align with every organization's needs and budget. Thankfully, the open-source community offers a range of compelling alternatives that provide seamless communication channels while allowing teams to tailor their experience. In this article, we will explore some of the best open-source Slack alternatives, highlighting their key features, ease of use, and cost-effectiveness, enabling you to make an informed decision that suits your team's requirements.
What is Slack?
Slack is a popular team communication tool designed to streamline collaboration and enhance productivity within organizations. It provides a centralized platform where team members can communicate, share files, and organize discussions in a structured manner. Think of Slack as a virtual office space, where teams can create channels dedicated to specific projects, departments, or topics. These channels act as shared workspaces, allowing team members to exchange messages, share documents, and integrate with various third-party applications. With its intuitive interface and real-time messaging features, Slack enables seamless and efficient communication, reducing reliance on email and fostering a more dynamic and interactive team environment.
Advantages of Slack
When it comes to team communication, Slack has emerged as a popular choice among businesses. With its intuitive interface and robust features, Slack offers several advantages that contribute to streamlined collaboration and enhanced productivity. Here are some benefits of using Slack as a team communication tool:
Seamless Collaboration: Slack enables seamless collaboration among team members by providing a centralized platform for real-time messaging, file sharing, and team discussions.
Organized Channels: With Slack, you can create channels for different teams, projects, or topics, ensuring organized conversations and easy access to relevant information.
Extensive Integrations: Slack offers a wide range of integrations with popular tools and services, allowing you to bring all your essential apps and notifications under one roof.
Powerful Search Functionality: Slack's robust search functionality empowers users to quickly find past conversations, files, and shared resources, eliminating the hassle of digging through multiple channels.
Customization and Personalization: Slack allows users to customize their workspace, choose notification preferences, and integrate bots and workflows to tailor the platform to their specific needs and enhance productivity.
Disadvantages of Slack
While Slack has gained popularity as a team communication tool, it's important to consider its drawbacks before committing to it. Here are some disadvantages of Slack that might influence your decision:
High costs: Slack's pricing structure can be expensive for businesses, especially if they require advanced features or have a large team.
Information overload: With multiple channels and frequent notifications, Slack can lead to information overload, making it challenging to focus on important tasks.
Reduced productivity: Constant interruptions and distractions from Slack notifications can hamper productivity and disrupt workflow.
Lack of offline access: Slack heavily relies on an internet connection, making it difficult to access important conversations or files when offline.
Data security concerns: Slack's cloud-based infrastructure raises concerns about data security and privacy, especially for organizations that handle sensitive information.
Considering these disadvantages, it's worth exploring alternative open-source options for team communication that offer similar features while addressing these concerns.
Open Source Alternatives to Slack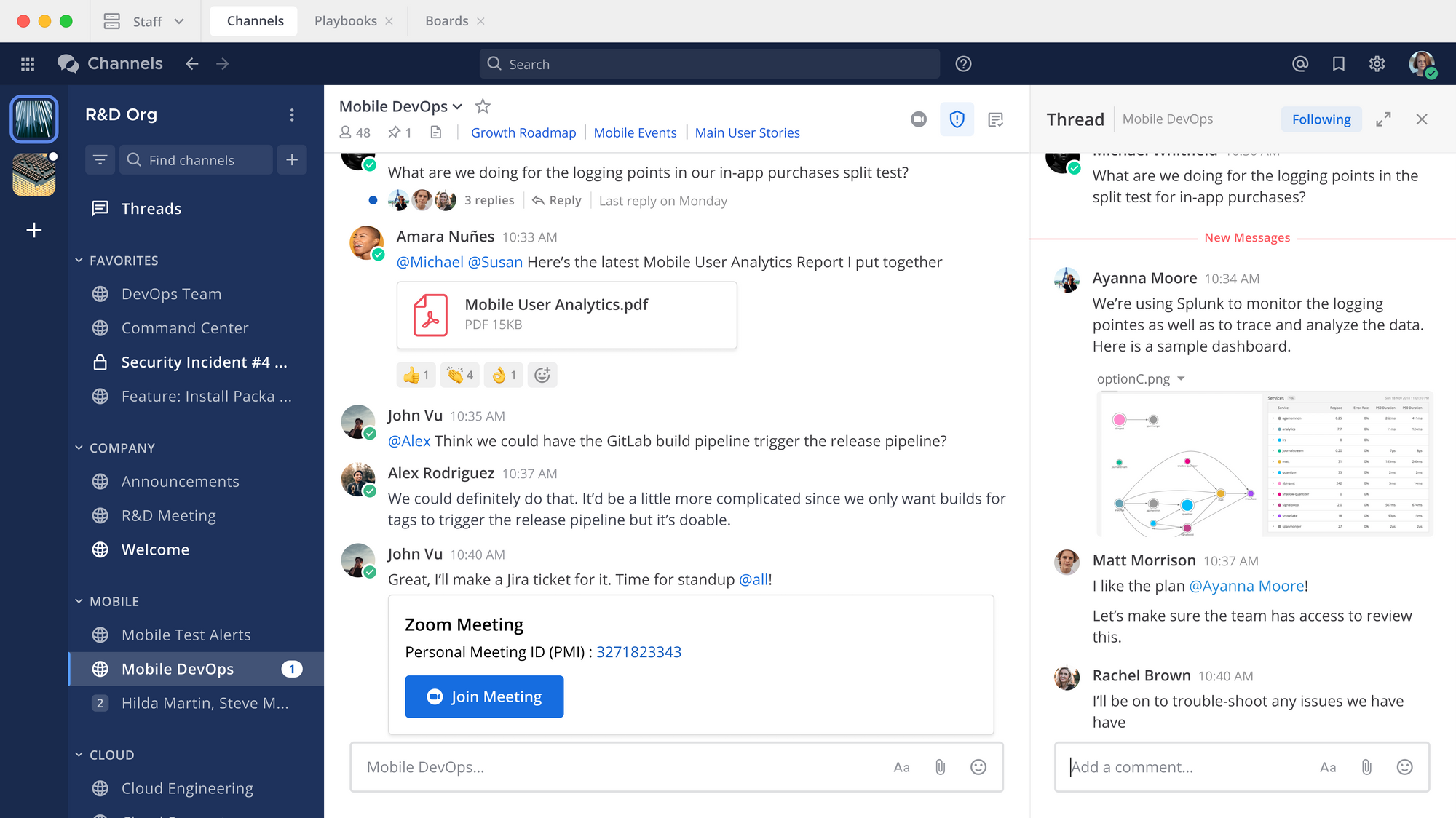 Mattermost is a robust and flexible team communication platform that offers self-hosting capabilities, granting organizations complete control over their data and messaging environment. With Mattermost, businesses can create their own secure and private messaging solution, ensuring data privacy and meeting compliance requirements. Mattermost empowers organizations to customize their messaging experience while maintaining control over their communication infrastructure, making it an ideal choice for those seeking a self-hosted team communication solution.
Key Features:
Access control policies to manage user permissions and data access
Active Directory/LDAP Group sync for simplified user management and access control
Automated compliance export to meet regulatory requirements
Custom branding options to align the messaging app with your brand identity
Elasticsearch integration for powerful search capabilities
Guest accounts for easy collaboration with external partners
Multi-factor Authentication (MFA) for enhanced security
Multi-language translation to foster seamless communication across diverse teams
Native apps are available for iOS, Android, Windows, Mac, and Linux, ensuring compatibility across devices
Read-only Announcement channels for important company-wide updates
Self-hosted one-to-one and group messaging, along with file sharing and search capabilities
Single sign-on (SSO) for streamlined login and authentication processes
Unlimited integrations to connect Mattermost with various third-party tools and services
Unlimited search history for quick and easy retrieval of past conversations
Pricing: Mattermost offers a cloud version priced at $10/user/month. The self-hosted version's pricing varies from $0/user/month to $8.5/user/month, depending on the specific feature requirements of the organization.
Self-Hostable: Yes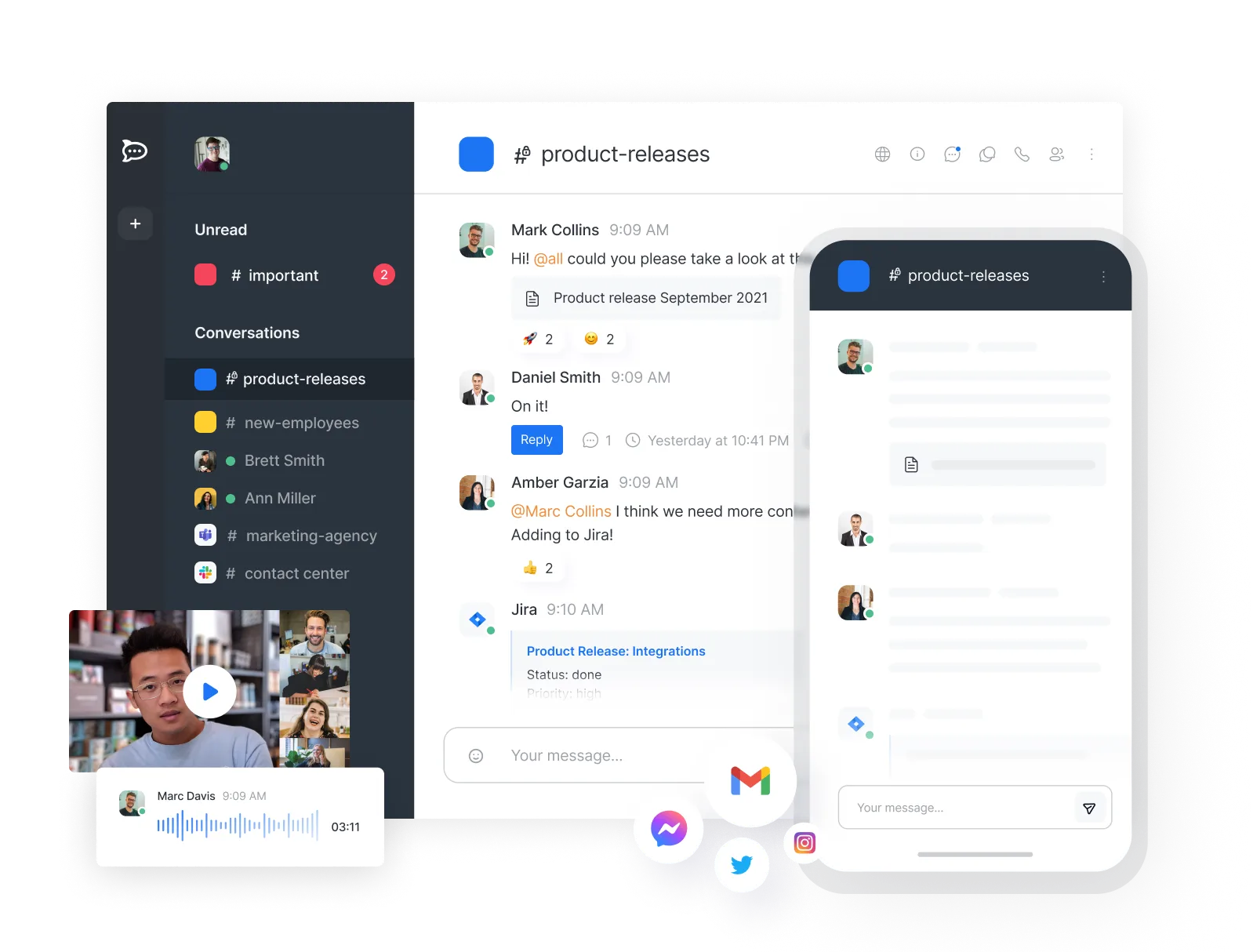 Rocket.Chat is a versatile and open-source team communication platform that empowers organizations to securely collaborate and communicate. With a strong focus on privacy and control, Rocket.Chat offers end-to-end encryption, allowing users to protect their messages, files, and calls. This self-hostable solution ensures that organizations can maintain full ownership and control over their data, keeping it within their own servers. Rocket.Chat enables seamless team collaboration, offering features such as group chat, file sharing, voice and video calls, and customizable notifications.
Key Features:
Analytics API for accessing chat data and generating custom analytics
Broadcast Channels to deliver announcements to specific groups
Canned Responses for quick and consistent message replies
Customizable User Permissions to tailor access levels and control
End-to-End Encryption ensuring secure and private communications
Engagement Dashboard for insights into user activity and engagement
Guest Users feature for collaboration with external partners
Message Audit Panel and Audit Logs for comprehensive message tracking
Multifactor Authentication (MFA) for an extra layer of security
Smart Chat Routing to direct incoming messages to appropriate channels or users
Unlimited Message History for easy access to past conversations
White Label (Branding) option to customize and align with your brand
Pricing: Rocket.Chat offers flexible pricing options. The cloud version ranges from $2/user/month to $4/user/month, while the self-hosted version's pricing varies from $0/user/month to $3/user/month, depending on the specific feature requirements of your organization.
Self-Hostable: Yes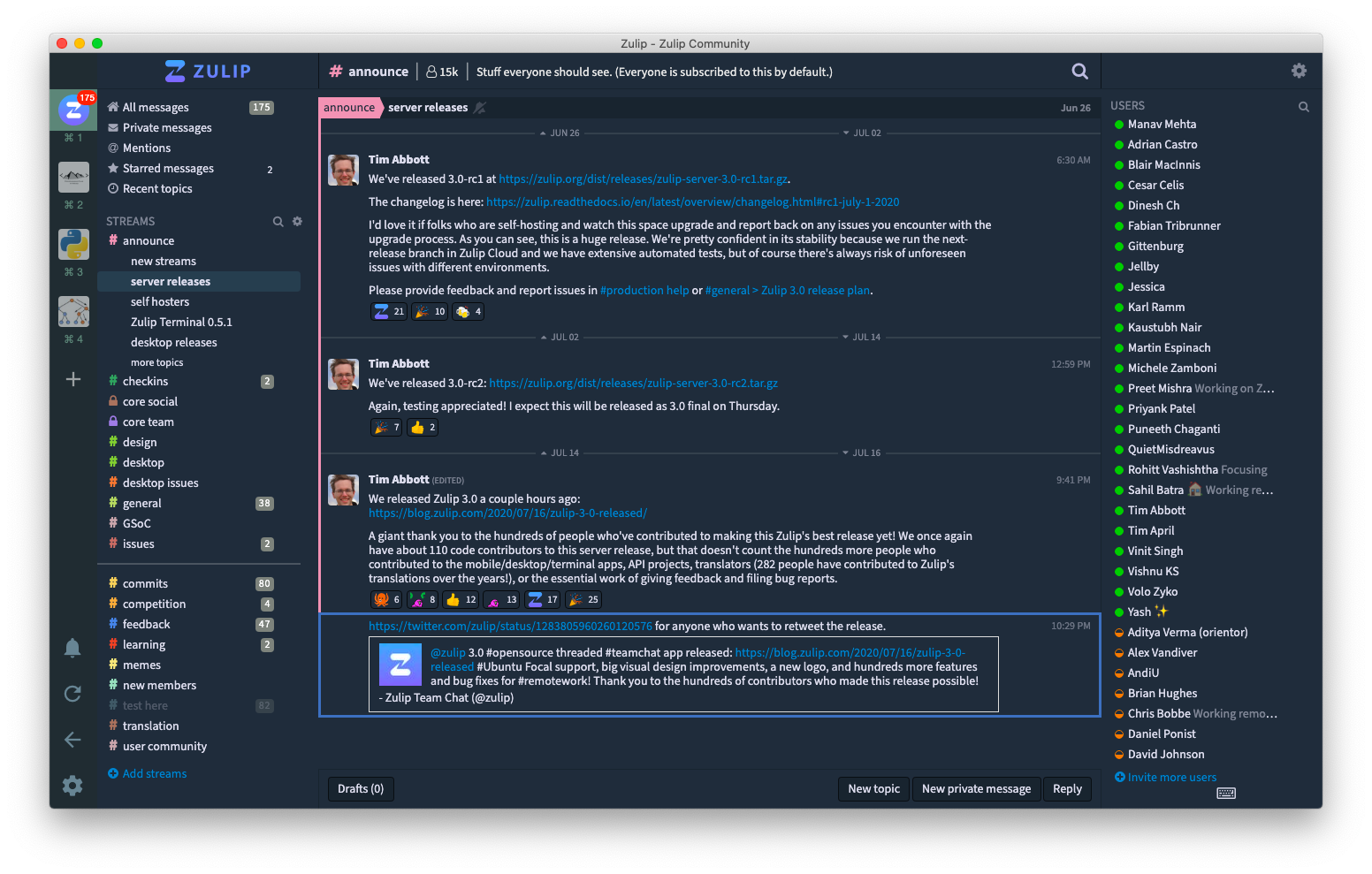 Zulip is a powerful and open-source team collaboration platform that revolutionizes the way teams communicate. With a unique threaded conversation model, Zulip organizes discussions into focused topics, eliminating clutter and ensuring that important conversations are easily accessible. Built with productivity in mind, Zulip offers real-time messaging, file sharing, and integrations with popular tools to streamline collaboration. Its advanced features include message threading, searchable message history, and fine-grained notification controls, allowing teams to stay organized and efficient.
Key Features:
Code blocks for sharing and discussing code snippets within conversations
Customizable automatic linkification, making URLs and links clickable for quick access
Enterprise-grade security measures to safeguard sensitive data and ensure secure communication
Inline image, video, and tweet previews for rich media sharing
Keyboard shortcuts for efficient navigation and message composition
Markdown optimized for chat, allowing for easy formatting of text
Pricing: Zulip offers flexible pricing plans for its cloud version, ranging from $0/user/month to $6.67/user/month, catering to different team sizes and requirements. For organizations preferring self-hosting, pricing for the on-premises version is available on a custom basis.
Self-Hostable: Yes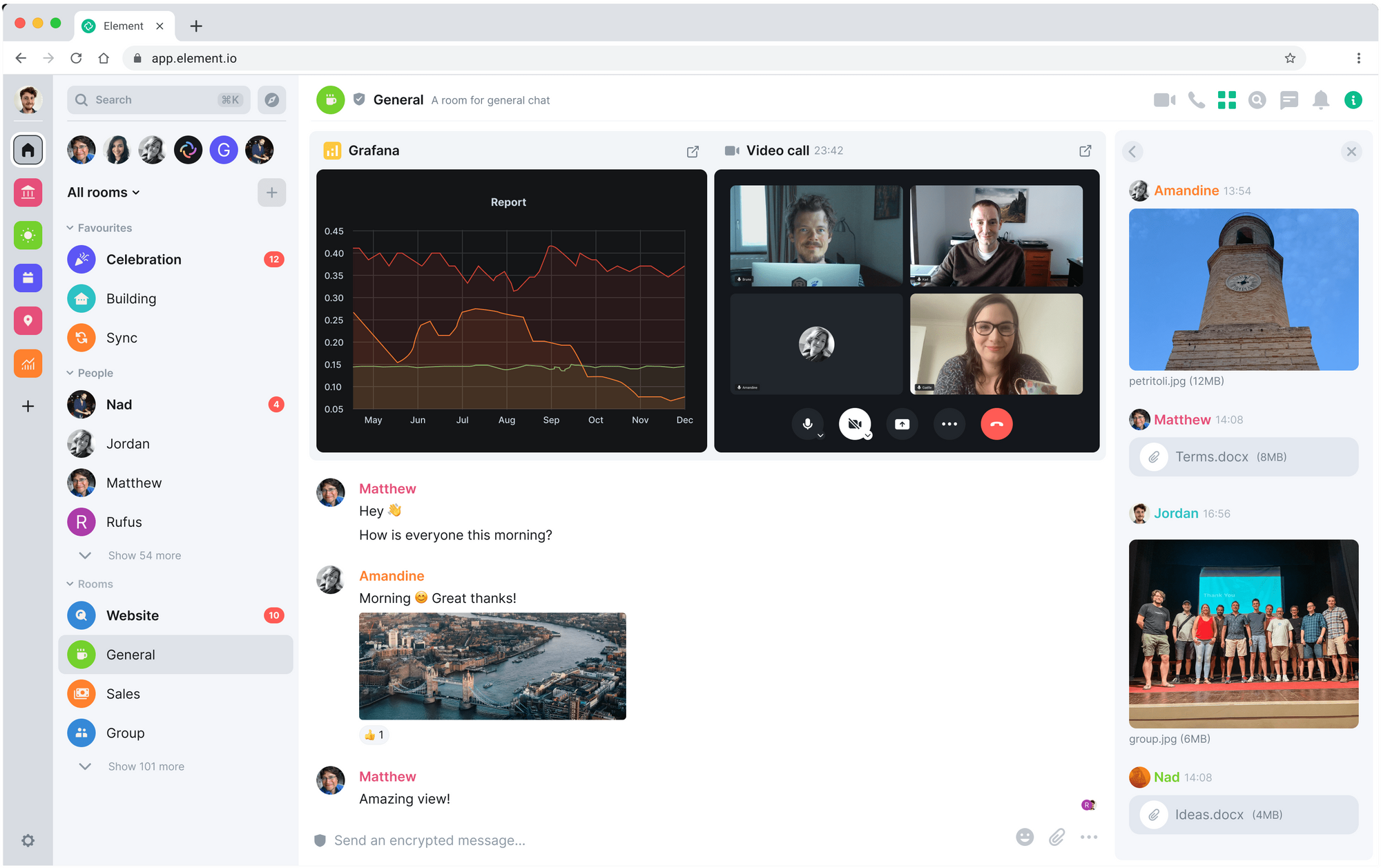 Element, an open-source instant messaging client, offers a secure and privacy-focused communication platform. One of its standout features is the support for end-to-end encryption, ensuring that conversations remain private and protected. Unlike centralized platforms, Element takes a decentralized approach, hosting and owning conversations on participating servers, which appeals to European governments and military entities seeking data sovereignty. With Element, users can confidently engage in secure and confidential discussions, knowing that their data is not stored centrally in a single location.
Key Features:
Users have full control over their conversations and data, ensuring privacy and ownership
Conversations are encrypted, providing a secure channel for communication, and users can verify the authenticity of devices involved in the conversation
Simplifies file sharing and offers convenient organization features, enhancing collaboration and productivity
Users can personalize their notification settings, allowing them to stay informed without unnecessary distractions
Supports high-quality voice and video calls, enabling seamless communication and collaboration
Pricing: Element offers a range of pricing plans for their cloud version, starting from $2/user/month to $3/user/month, providing flexibility based on the specific needs and requirements of organizations.
Self-hostable: No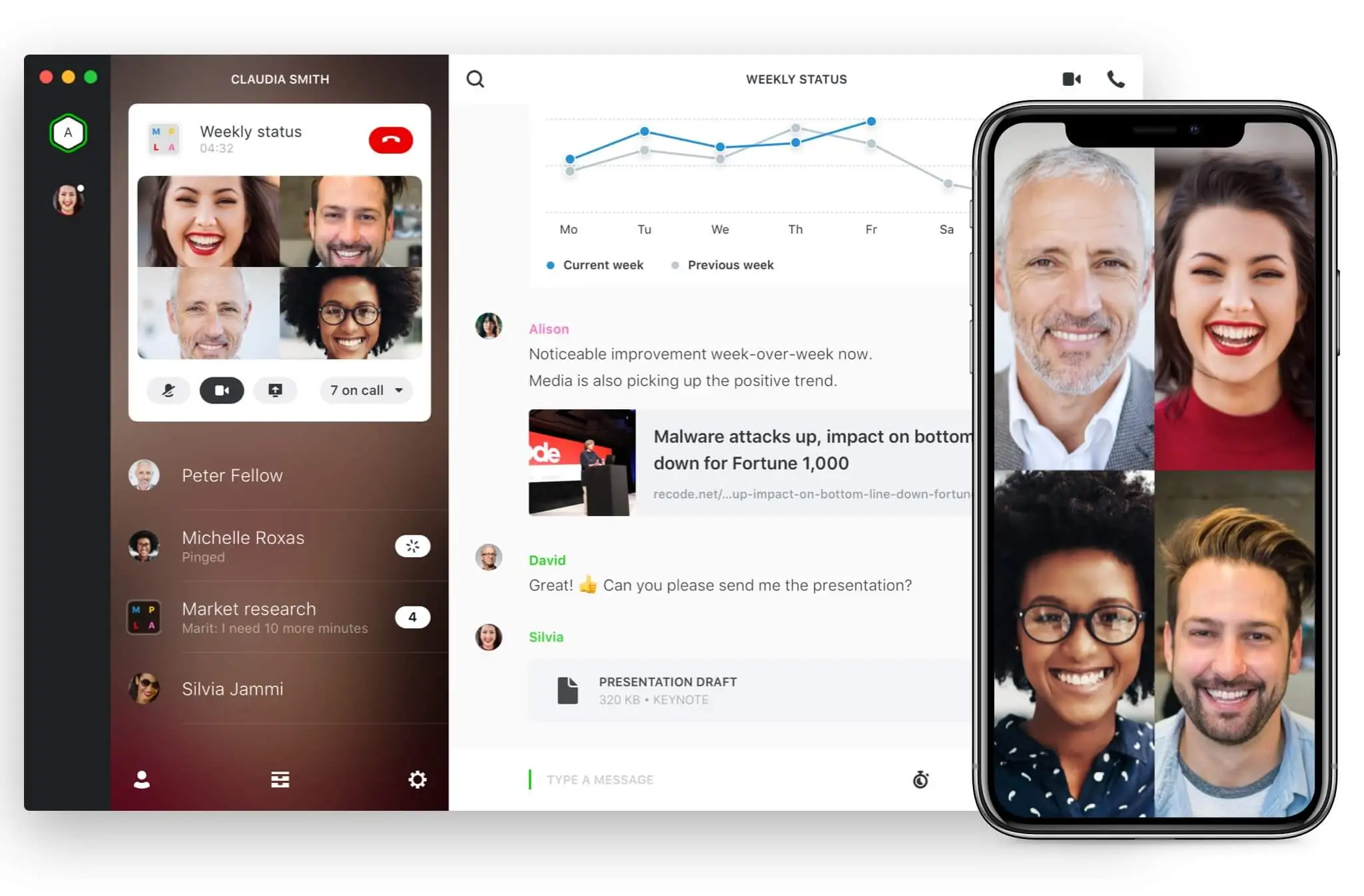 Wire is a secure and versatile messaging application that prioritizes privacy and confidentiality. With its focus on end-to-end encryption and secure communication, Wire offers users a trusted platform for instant messaging, voice calls, and video conferences. Wire's commitment to privacy extends to its business model, as it operates on a transparent and subscription-based approach, ensuring that user data is not the product. Wire provides a reliable and privacy-centric solution for seamless communication and collaboration, whether for personal use or professional collaboration.
Key Features:
Custom settings like device verification and access restriction to prevent impersonation
Easy onboarding via email registration or Single Sign-On (SSO), with flexible role and permission management
Enhanced conference call management for reduced disruptions and improved user experience
Fully encrypted file sharing across devices, with no predefined file expiration
Individual encryption for 1:1 and group conversations, ensuring privacy for every message
Invite external members securely through dedicated links or guest rooms for seamless collaboration
Secure voice and video calls for seamless communication with team members, guests, and vendors.
Self-destructing messages with various end-to-end encryption options for added confidentiality
Pricing: Wire offers flexible pricing plans, starting at $5.83/user/month for team collaboration and $9.50/user/month for enterprise collaboration. A free trial is available to explore the features before committing to a subscription.
Self-hostable: Yes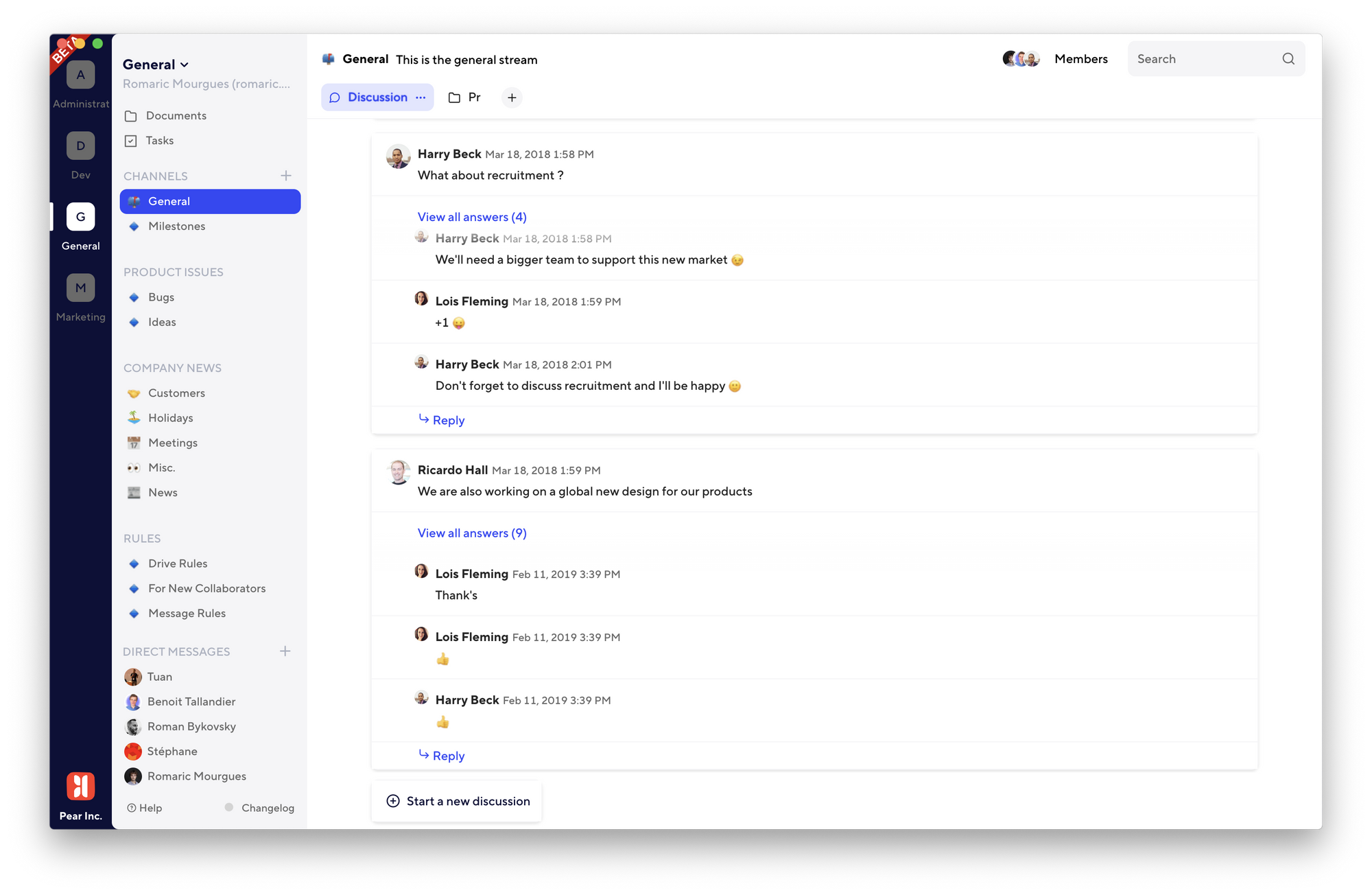 Twake is a collaborative platform that empowers teams to work together seamlessly and efficiently. With a focus on productivity and communication, Twake offers a comprehensive suite of tools for task management, file sharing, messaging, and more. Twake's intuitive interface and robust features foster collaboration and enable teams to organize their work effectively. Twake provides a centralized hub for teams to collaborate, communicate, and achieve their goals.

Key Features:
Collaborate with your team members through real-time messaging
Store and share files securely within Twake's platform, ensuring easy access and collaboration on important documents
Stay organized and keep track of important dates, deadlines, and team events with Twake's team calendar feature
Streamline your team's workflow by creating and assigning tasks, setting deadlines, and tracking progress
Conduct virtual meetings and collaborate face-to-face through Twake's video call and conferencing feature
Work together with your team members in real-time on shared documents, spreadsheets, and presentations
Pricing: Twake offers a range of plans to suit different needs. The Free plan allows users to access Twake's features at no cost. For more advanced features and increased storage, the Standard plan is available at 4.99 € /user/month. The Premium plan, priced at 12.49 € /user/month, offers additional benefits and enhanced support. For larger organizations with specific requirements, the Enterprise plan can be customized and is available upon contacting the sales team.
Self-Hostable: Yes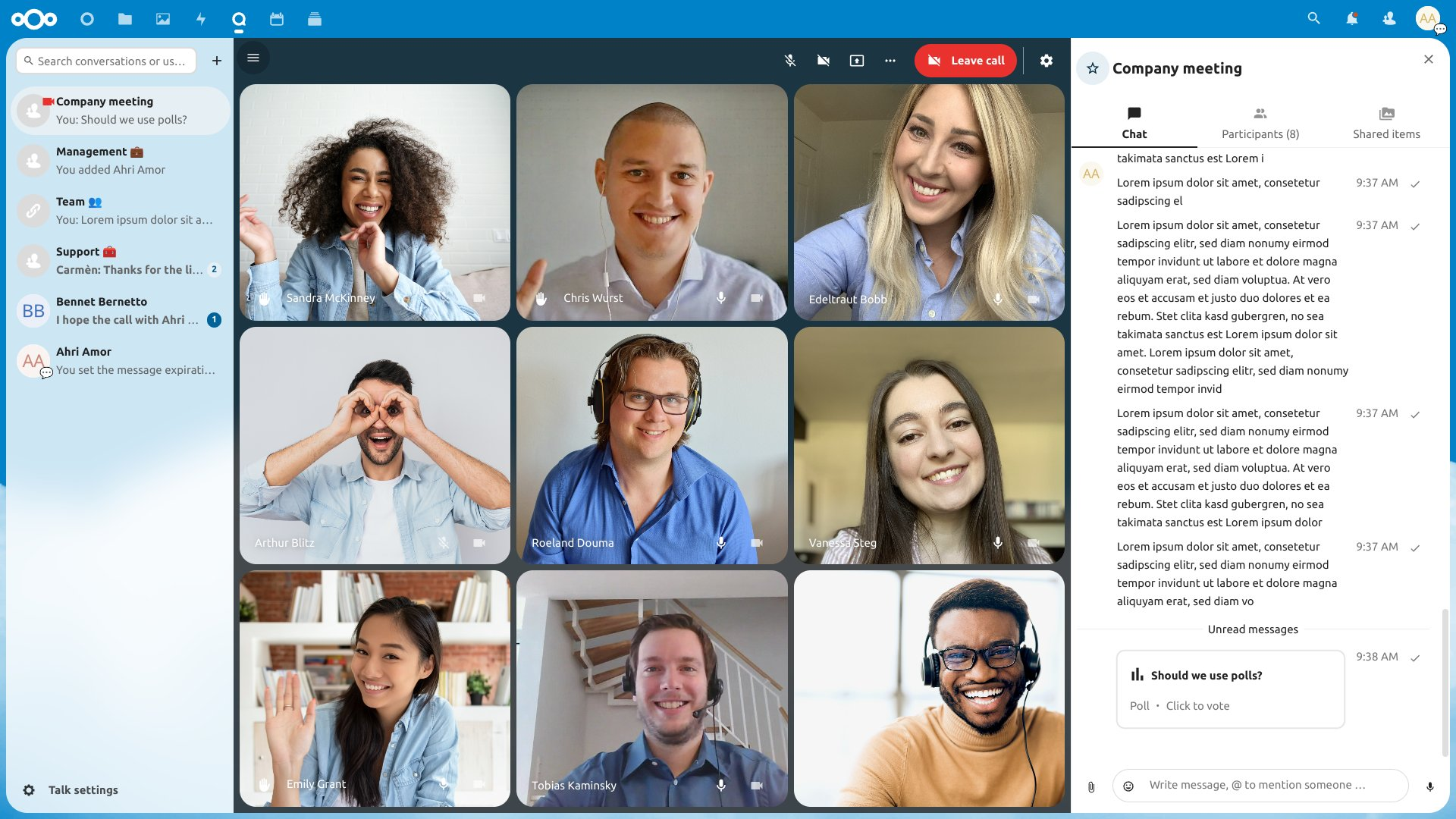 Nextcloud Talk is a robust and secure communication platform that is part of the Nextcloud ecosystem. With a focus on privacy and data control, Nextcloud Talk offers end-to-end encryption for secure messaging, audio, and video calls. As a self-hosted solution, Nextcloud Talk ensures that conversations and data remain within the organization's infrastructure, providing enhanced control and compliance. With intuitive features and a user-friendly interface, Nextcloud Talk empowers teams to collaborate seamlessly and communicate effectively while maintaining the highest level of data privacy.
Key Features:
Integration with other Nextcloud apps like Calendar, Contacts, Dashboard, Deck, Files, Flow, Maps, Smart picker, User status, and more
Private, group, public, and password-protected calls, allowing flexible invitation options
Screen sharing feature for easy collaboration and presentation sharing during calls
Seamless sync with other chat solutions through Matterbridge integration, enabling interoperability with various platforms
Simple text chat with the ability to share or upload files from Nextcloud Files app or local device, as well as mention other participants
Utilizes the reliable and widely-used simpleWebRTC library for a stable communication experience
Pricing: Nextcloud offers three plans: Basic, Standard, and Premium. The Basic plan starts at 36 €/user/year for 100 users, the Standard plan starts at 65€/user/year for 100 users, and the Premium plan starts at 95.50€/user/year for 100 users.
Self-hostable: Yes
Wrapping Up
While Slack is a popular team communication tool, it's important to consider the advantages and disadvantages it brings. Thankfully, there are several open-source alternatives available that offer similar functionalities and features. These alternatives provide transparency, customization options, and potential cost savings for teams. It's crucial to carefully evaluate the features, integrations, and user interface of each alternative to find the best fit for your team's needs.
Additionally, if there are other noteworthy open-source platforms we missed, we welcome your suggestions and input in the comments section.
---
About the author
Paula Isabel Signo is a technical writer at OSSPH and a web developer. In her free time, Paula contributes to various open-source projects, volunteers in the community, and shares her knowledge by writing articles and tutorials. Connect with Paula here to learn more about her work and interests.
---